Meet our in-house Crazies
Seven – Co-Founder & Managing Partner
Hi, I'm Seven (yes, that is my real name). I am a Certified Professional Dog Trainer (CPDT)-studied with the Delta Institute. I've been training using positive reinforcement for ten years and have been working and volunteering in animal welfare for around the same time period. I'm passionate about the emotional well being of all furry and feathered critterz as well as education of owners and guardians. I'm continuously updating my skills and education to ensure my finger is on the pulse and that we are bringing you the most up to date and relevant products on the market. I am currently owned by a very large Bull Arab named Phatso who you will get to know as well as a crazy little ragdoll cat named Banana and my feathered flock of Polly the King Parrot, Crackers the Alexandrine and Mikey the Major Mitchell.
Jes – Co-founder & Managing Partner
Hey, I'm Jes the resident spreadsheet enthusiast. I manage all things business here at Crazy Critterz Toy Box, to ensure our product selection is of the highest quality, and our customer experience is enjoyable for all our customers be it two legged, furry or feathered. I'm a mum, a step mum and a fur mum, I have a BSc in Human Biology as well as various other accreditations and have worked in quality, supply chain and supplier management functions within pharmaceuticals, nutraceuticals and animal health for over 10 years now. My heart has always been in animal health and welfare especially nutrition and mental wellbeing. I love all critterz big and small, having grown up in a suburban zoo (aka my parents place) with our dogs which ranged from Jack Russells through to an amazing German shepherd x Keeshond, our pig Rosie, ducks, chooks, turtles, fish and frogs. I'm so excited about what Seven and I are creating and cannot wait to get to know you and your fur babies.
Asgard - Brand Ambassador
A little bit about myself: I am a certified fluffy boy who loves socialising with friends while out but absolutely love getting my food and toy enrichment on when I'm at home! I get so excited when my humans get home I have to grab the nearest toy so that I can get them to play with me! I also love sitting out in the rain pondering life's mysteries; who really is the goodest boy?
My favourite toy so far: Toilet rolls with treats hidden inside and any soft toys - so I can destuff their innards and rip out their squeaky hearts!
Why I wanted to be a CCTB BA: I love new toys and treats and love the surprise of finding out whats in my CCTB every month! Always looking for new ways to keep my brain busy while having fun at the same time!
My socials https://www.instagram.com/asgard_adventures/
Jackson - Brand Ambassador
A little bit about myself: Hi! Hey! Hello! :) I tried my paw at some farm work for a bit, but it didn't really suit me very well. Through some happy coincidences though, I found a new, loving non-farming family and I'm now enjoying life running around and exploring Brisbane everyday instead! I have genetic condition which means I don't have very much fur, but Mum says that just means I'm ultra-special and that I'm still the most handsome doggo she's ever seen. We try to do a lot of camping and travelling around in the van, which is so awesome because I loooove sniffing around new places!
My favourite toy so far: The SloDog Feeder and the Lickimat's have been awesome, because I get really excited about food sometimes (who doesn't though, amirite?!) and it helps slow me down a little and not entirely inhale my meals anymore.
Why I wanted to be a CCTB BA: They have so many cool toys and treats and stuff I like!
My socials: https://www.instagram.com/notafarmdog/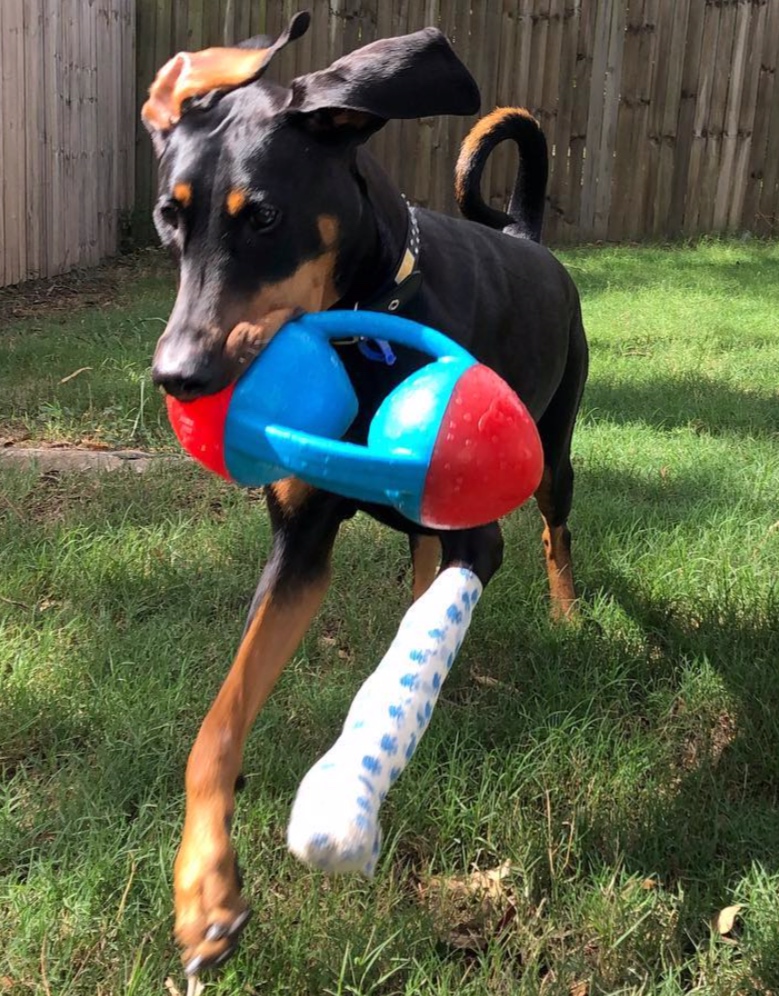 Shadow - Brand Ambassador
A little bit about myself: I like eating food, playing, eating non-food, testing the bounds of my parents love, and general mischief making I've had leg health issues for the last 6 months, so you'll see me sporting socks and bandages and boots (all of which I love to eat!) until I'm recovered and can run free again.
My favourite toy so far: I love the tug a jug! It's the longest lasting of my food toys and it has some different textures that feel great in my mouth. I always do a victory lap when I get this one!
Why I wanted to be a CCTB BA: I'm a young, energetic dog that needs to be occupied physically, mentally, and tastebud-sy so the Crazy Critterz philosophy is perfect for me! Plus I ️ Miss Seven and our adventure walks!
My socials: https://www.instagram.com/dobeshadow/
A little bit about myself: I may be small but I have a big personality with a lot of energy, I make friends with all creatures big and small. I love when my mum comes home so I can go to the park and see all my friends and to run and run and run
My favourite toy so far: I really love the Licky Sticky Triangle mum sticks around the kitchen with peanut butter on it to keep me busy. I also love my piece of wood I found on my favourite farm that I chew for hours on end especially while I'm teething.
Why I wanted to be a CCTB BA: I get anxiety when my mum leaves for work in the mornings, all the new treats and enrichment toys have really helped with that and help keep me entertained and not focus on her leaving.
My Socials: https://www.instagram.com/a_dash_of_hugo/
Mr Clooney - Brand Ambassador
A little bit about myself: A fun loving larikin, found roaming the streets as a puppy, saved by the AWLQ. Had a brief stint of fame, when I spent 80 days in the Big Brother House 2013. Luckily got adopted by my carer/ trainer and now get to call the AWLQ home, as part of the Education team. My job entails me interacting with children of all ages and amazing them with my wonderful repertoire of tricks, while my person teaches them about caring for pets responsibly and how to be safe around dogs. I love to learn new things and I keep my family very active, as I like to get out & about and do things - all the time! I have the best life!
My favourite toy so far: the tug-a-jug is the 1st toy I've received - man it's hard :) but I keep working at it.
Why I wanted to be a CCTB BA: I love the work you guys do for welfare pooches and I love the message of enrichment and engagement. We see far too many dogs surrendered to our shelters that have been treated as 'pot plants' with very little engagement and connection to their humans. I hope that my 'platform' on social media can help to spread the word about how important it is to have that bond with your pet. So that many more pets get to live their best life too.
My Socials: https://www.instagram.com/mrclooney_awlqld/